******************************************************************



Our First National Winner
GC, BWR, NW Brontti Royal Titanium
Blue Point

72x BEST in Show Cat
CFA's Best Persian 2017/18

CFA's #1 Himalayan in Championship

NAR's #1 Cat in Championship

CFA's #4 Cat in Championship


Sire: Brontti Royal Albert Hall x Dam: GC Brontti Mount Claire
******************************************************************


NAR Regional Winner
GC RW Brontti Legacy Gold
Flame Lynx Point

11x Best in Show Kitten
CFA's 4th Best Himalayan Kitten 2016/17


Sire: GC RW Brontti Galaxy Defender x Dam: GC Brontti Succotash Sally
Talk about fun showing a kitten, well we had more fun showing him than probably any other kitten. He truly loved being shown and he was a stand out. He received 3 best in shows in his second show at a ripe old age of 4 months and 1 week with 52 kittens in attendance. He went on to take many more bests and if I had to guess much of this is due to his amazing eyes. They are huge and the nicest blue set against his flame lynx points. Can't wait to begin his adult show career. He's also quite famous being the only kitten we have from his famous father Galaxy.
******************************************************************

Brontti Royal Albert Hall
Seal Point

Best in Show Kitten at very first show at 4months and 1 day.

Sire: GC Laureden Gravity of Brontti x Dam: Brontti Sabrina
This boy truly has the most vivid deep blue eyes we have ever produced. His mother was pet quality but she always gave us amazing kittens. His full sister Brontti Kylie Into the Blue lives in Italy. Albert has given us some amazing boys (yes all boys to date) we have enjoyed showing. His latest son Brontti Royal Titanium will hopefully be shown to his full potential. We were unable to show Albert due to other commitments but boy was that a mistake we will always regret. Anyone looking to add color to their Himi lines then this boy's offspring is what you're looking for.
******************************************************************
CFA Grand Champion &
Our First Regional Winner

GC RW Brontti Golden Boy Hugo
Cream Tabby Point

Sire: CH Sandypaws Blueprint of Brontti x Dam: CH Lil Luv Lyns Sweet Sceret

Best in Show Cat - Baton Rouge Cat Club March 2013
Best in Show Cat - Nutmeg Cat Fanciers Feb 2013
Best in Show Kitten - NH Feline Fanciers - Jan 2012

CFA's Best Cream Lynx Himalayan 2012/13
Atlantic Himalayan Club 16th Best Kitten 2011/12
PKD DNA Negative
Hugo is a chip off the old block, Blueprint. He is also our first Grand Champion in the CFA. What an excited day we had at the Touch of Class Show in Groton, CT. Thank you to all the judges and exhibitors that helped us along the way. I won't mention anyone for fear of forgetting someone but you know who you are! On top of having his Dad's striking blue eyes, he truly has the most amazing personality I have ever seen in a cat. He thinks he's the center of attention anywhere he goes. He loves being shown and is always entertaining as soon as he hits the judging area. He is a joy to have and we are one lucky cattery to have this guy.
******************************************************************

CFA Grand Champion
GC Laureden Gravity of Brontti
Flame Tabby Point

Sire: GC NW Catberry Tail Karma Copy x
Dam: GC RW Laureden Elizabeth of Catsfrat, DM

What a thrill it is to welcome this boy to our home. He has genes to die for. He's the father of 11 Grand Champions including our little girl GC Brontti Lady Shadow. Thank you to Carolyn and Hope for this wonderful guy. He has quickly made himself at home here in Maine no easy feat for a boy rasied in Florida. He loves his daily walks to the beach and is the biggest talker in the house. We absoluetly love this boy!
******************************************************************

CFA Champion
CH Sandypaws Blueprint of Brontti
Blue Lynx Point


Sire: GC, RW Grovewood Route 66 of Sandypaws x Dam: CH Sandypaws Bahama Breeze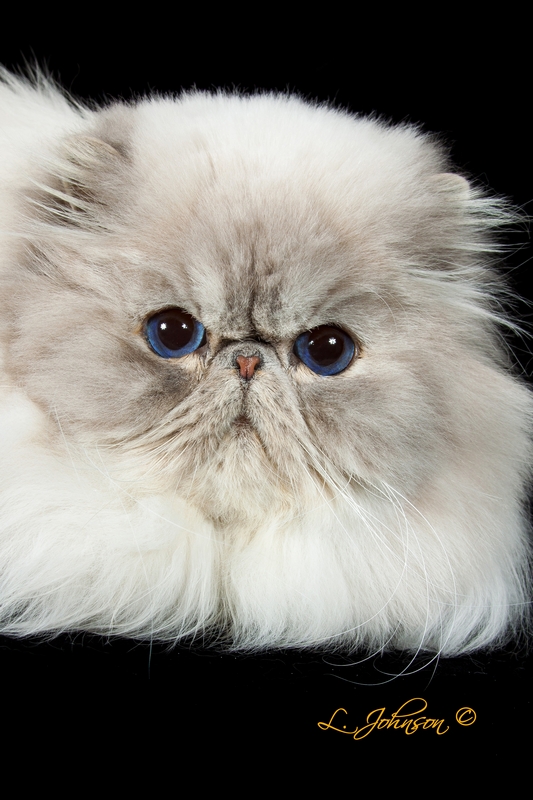 This boy's eyes are truly unbelievable. From the moment we first saw his Mom to the day we saw this boy we continue to be awed by the colour of the eyes in this pedigree. They must be seen to be appreciated! We hope that we get some kittens from him that will make a true impact to the colourpoint scene for years to come. We co-own this boy with Carolyn at Sandypaws who has made this all possible. We will never be able to thank her enough for the time and sacrifice she has given to bringing this amazing boy to England!